Confirmation Retreat: March 3rd - 5th, 2023
At camp we know that confirmation is an important step in one's life of faith, so each year we offer our Confirmation Retreat, open to all PC(USA) confirmands and their mentors. This retreat focuses on building strong bonds between youth and their mentors, as well as helping confirmands learn the tools they will need on a lifelong journey of faith. Each year youth gather together at Pyoca from across Indiana, Kentucky, and Ohio to participate in keynotes and worship each day, meet new friends through small group sessions, and have plenty of time to explore all that camp has to offer. Registration for this event will open on Wednesday, Dec. 7th, 2022. To learn more, see information below.
---

COVID-19 RETREAT PRECAUTIONS:
With the ongoing pandemic, COVID-19 precautions will look a a great deal like our summer camp protocols in order to ensure the health and safety of both our guests and staff.
Full vaccination of retreat guests, for both youth and adults, is highly encouraged for the safety of all participants.
All retreat guests are asked to practice good hand hygiene and maintain social distance when possible (hand sanitizing stations will be available in public areas).
All Pyoca facilities have been outfitted with central air purifiers and enhanced cleaning measures have been implemented.
Anyone experiencing signs or symptoms of COVID-19 (fever, cough, difficulty breathing) is asked to stay home for the protection of other guests and staff.
We are adhering to the latest CDC guidance. If conditions or expectations change we will notify all participants prior to the retreat.
---

MEET OUR KEYNOTE SPEAKER: We're excited to welcome Rev. Carrie Winebrenner, Associate Pastor of First Presbyterian Church in Ft. Wayne, Indiana, as this year's Confirmation keynote speaker. Check out Carrie's bio below: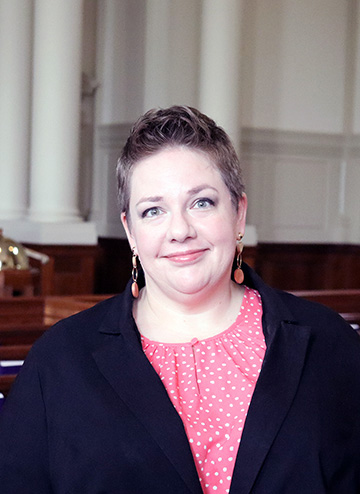 Over the course of my lifetime, so many things have been made possible by God to get me where I am today. I was born into the Presbyterian Church (U.S.A.) and was baptized and attended the nursery school of First Presbyterian in Valparaiso, Indiana. There, I learned about God, Jesus, and all the stories. And I learned the music! The first song I remember singing in church…I was three…goes like this: "I am a promise. I am a possibility. I am a promise with a capital P. I am a great big bundle of potentiality." While the meanings of those big words were far beyond my grasp, the fact still remained: I was forming my first statement of faith. "And I am learning to hear God's voice, and I am trying to make the right choice. And I promise to be anything God wants me to be." Throughout my life, I have tried to live into that theology, but I fail more than I succeed. But what a gift to know God is always there helping me get back on track.
When my family moved to Texas when I was seven, I learned the magical inclusivity of the term "y'all." My appreciation for the Church and the Presbyterian denomination lead me to be ordained as a Ruling Elder at 16 years old, and my love of music meant singing in lots of choirs and playing handbells. I also loved to serve as the worship leader of our contemporary praise team. But the most fun I ever had at church was reimagining the biblical stories into some epic lessons while teaching high school Sunday School. (Ask me about fish tacos sometime.) Even though I had done all these important things to serve God and the Church, I never imagined being a pastor. But, as always, the sneaky Spirit had other plans! So, while at the Presbyterian Youth Triennium in 2016, the final sledgehammer moment happened, and I knew that I needed to become a pastor. I graduated in May 2020 (thank you, COVID) from Austin Presbyterian Theological Seminary, and I am thrilled to be the Associate Pastor at First Pres Fort Wayne where I am so blessed to work with our children, youth, and families!
In my free time, I love being an active member of the community theater, playing with the FW improv team, taking a million photos of squirrels, playing board games or D&D, face-timing with my niblings, and playing with the cutest puppy you've ever seen, at least in my eyes.
New friends, I am an ally, and I am called to serve you. I cannot wait to meet you in March!
---

RETREAT THEME: This year's theme comes from PC(USA)'s Matthew 25 curriculum Commissioned to Change the World. We will continue to explore the themes around Matthew 25 from our Fall Youth Retreat and expand upon how youth are called to serve God and the world. An excerpt from curriculum author Mark D. Hinds, Ed.D.: "Imagine Matthew 25:31-40 as a confirmation service. As the nations present themselves before the throne, there is no creed, no profession of faith, no examination of their intellectual grasp of the Bible or church history and no declaration of church membership. The sheep, unaware of having done anything special, are invited to 'inherit the kingdom prepared for you from the foundation of the world' (Matthew 25:34). 'Inheritance' implies a familial relationship; they already belong. Belonging has somehow resulted in behavior that reflects God's character: 'The Lord, the Lord, a God merciful and gracious, slow to anger, and abounding in steadfast love and faithfulness' (Exodus 34:6). Confirmation in the Matthew 25 congregation focuses on the church's affirmation of the teenager as the beloved child of God in baptism and the community's covenant embrace through the laying on of hands. Confirmation also confers a priestly vocation through the anointing with oil. We are God's image-bearing stewards of the goodness and beauty of creation, empowered by the Spirit's gifts of grace: 'the spirit of wisdom and understanding, the spirit of counsel and might, the spirit of knowledge and the fear of the Lord,' the spirit of joy in God's presence (Isaiah 11:2-3a)." Mark expands upon his understanding of confirmation and the Matthew 25 church in a recent article written for The Presbyterian Outlook. Click here to read the article.
---
Registration:
WHAT'S INCLUDED IN MY REGISTRATION? The Confirmation Retreat pricing structure is all-inclusive, with meals, lodging, and activities included. ALL-INCLUSIVE REGISTRATION FEES:
Youth: $140.00; includes two nights of lodging, four meals, snacks, and all program activities.
Adult: $70.00; includes two nights of lodging, four meals, snacks, and all program activities.
WHO CAN REGISTER? This retreat is open to youth in grades 6 - 12. Youth are accompanied by adult chaperones from their church or youth group (1 adult per 7 youth). You are welcome to share chaperones with another church if needed! Youth without a church youth group are more than welcome to attend and will be connected with other youth and adult chaperones from their region. Additional supervision and activity facilitation will be provided by Pyoca staff. HOW DO I REGISTER? All participants, both youth and adults, will register individually through our online registration portal. Churches covering the cost of their youth's registration fees are asked to notify Pyoca in advance for appropriate invoicing (this includes a $25.00 deposit per participant). Please email program@pyoca.org for church payment information. The deadline to register is Friday, February 24th. If you need assistance with registration, please let us know! WHAT ARE MY PAYMENT OPTIONS? We accept online payment via debit/credit card and e-check. Quilters can also send a check in the mail for their registration fees. Online options are as follows:
Pay the $25 deposit and log back into your account later to pay remaining fees,
Pay the registration fees in full,
Select the "Small Group Leader" option if you are volunteering to serve in this capacity at the retreat (fees are covered by camp and no immediate payment is due). Volunteers will be contacted by the Pyoca office and a discount code will be applied to your fees.
Choose the "Church Payment" option and no fees are immediately due. Pyoca will invoice your congregation.
NO RISK REGISTRATION: We will continue our No Risk Registration policy from 2020. This means if you register for a particular program and cannot come due to COVID-19 illness or exposure, we will:
Work to transfer your registration to another Pyoca program, or,
Provide participants the opportunity to donate or receive a full/partial refund of their registration fees.
---

HAVE QUESTIONS? We are happy to answer any questions you may have. Please contact our office at (812) 358-3413 or program@pyoca.org.