Retreats
If you're interested in retreating to Pyoca with a church or small group, please email program@pyoca.org for information on pricing, policies, and procedures to book.
If you're looking for information on what facilities and services we offer our retreat guests, please take a look at our facilities page.
Confirmation Retreat: March 13 - 15, 2020
All 2020 PC(USA) confirmands and their mentors are welcome to join us as we connect with confirmands across IN, KY, and OH. Learn about what binds us together, not only as Presbyterians, but as a universal church. Come ready to make new friends and start your statement of faith!
Each year, our goal is to connect youth to a wider Christian community beyond their local congregation. We believe it is especially important for youth to build a supportive faith network of peers with the support of their pastors and mentors. This retreat will place youth into house churches that will build their own churches through team building, low ropes, high ropes (weather permitting), and developing a church statement of faith outlining their church's understanding of Christian discipleship.
We highly encourage confirmation mentors to join their youth. Mentorship in the church is a key factor in continued youth engagement and faith formation. The cost per person is $110 for the weekend. This includes all meals, lodging, adventure activities, and programming.
To register, please fill out your group registration form and the adult registration forms for any adults ages 18+ who are not currently high school students. Send these forms to molly@pyoca.org no later than Friday, February 28th. Youth medical and consent forms can be sent via mail or brought to the retreat. All forms are mandatory.
Mystery Quilt: March 25 - 29, 2020
Looking to add a little mystery to your life? Love to sew? The Mystery Quilt Retreat is perfect for you! This spring's pattern will be a secret until participants arrive, but don't worry! The fabric dimensions will be sent out in advance.
Join us Wednesday, Thursday, or Friday through Sunday. Registration fees vary depending on the length of stay. Retreat shirts are available for pre-order for $12.00 each, or at the retreat for $15.00. If you think you may purchase a t-shirt, please indicate so on your registration form so that we can ensure that we have your size available.
To register, please fill out the Mystery Quilt Registration Form and return it via email to molly@pyoca.org or by mail. You will receive confirmation of your registration and the retreat fabric requirements once your form has been submitted.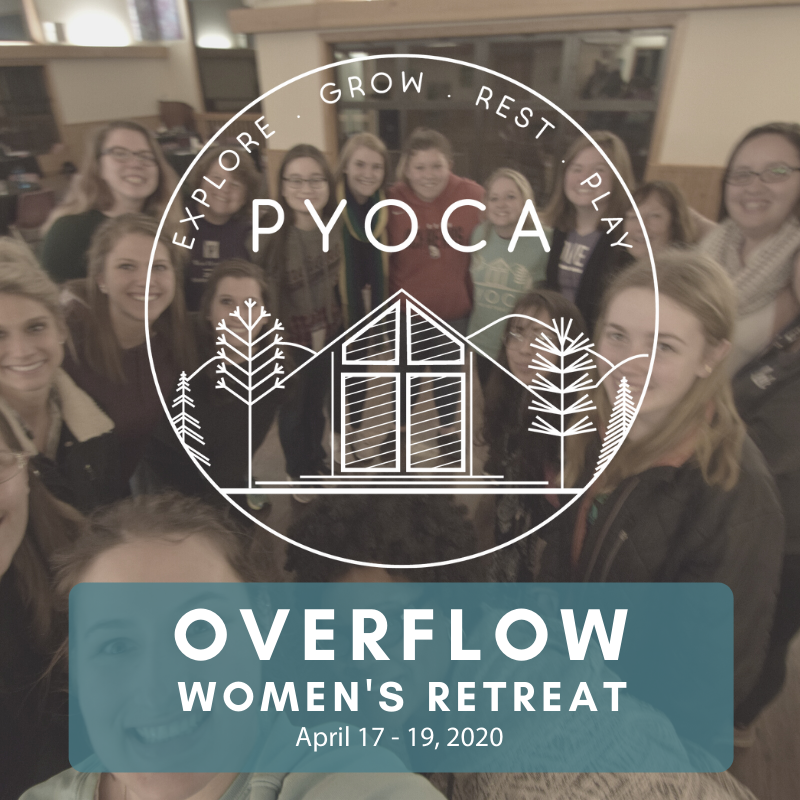 Overflow: April 17 - 19, 2020
We are delighted to partner with Rev. Kim Olson of First Meridian Heights Presbyterian Church this spring as we bring you Overflow, a retreat designed to provide women with a space to rest, renew, and engage in fellowship with other women.
Perhaps you feel your cup is empty and has nothing left to give, or maybe your cup cannot handle all that is being poured into it. Whatever it may be, we invite you to come to Overflow bringing a cup that is personal to you, one that you treasure or drink out of everyday that will serve as a symbol of your spiritual journey right now. We will utilize these in our devotional time together. More information to come Spring 2020.
More information to come soon.